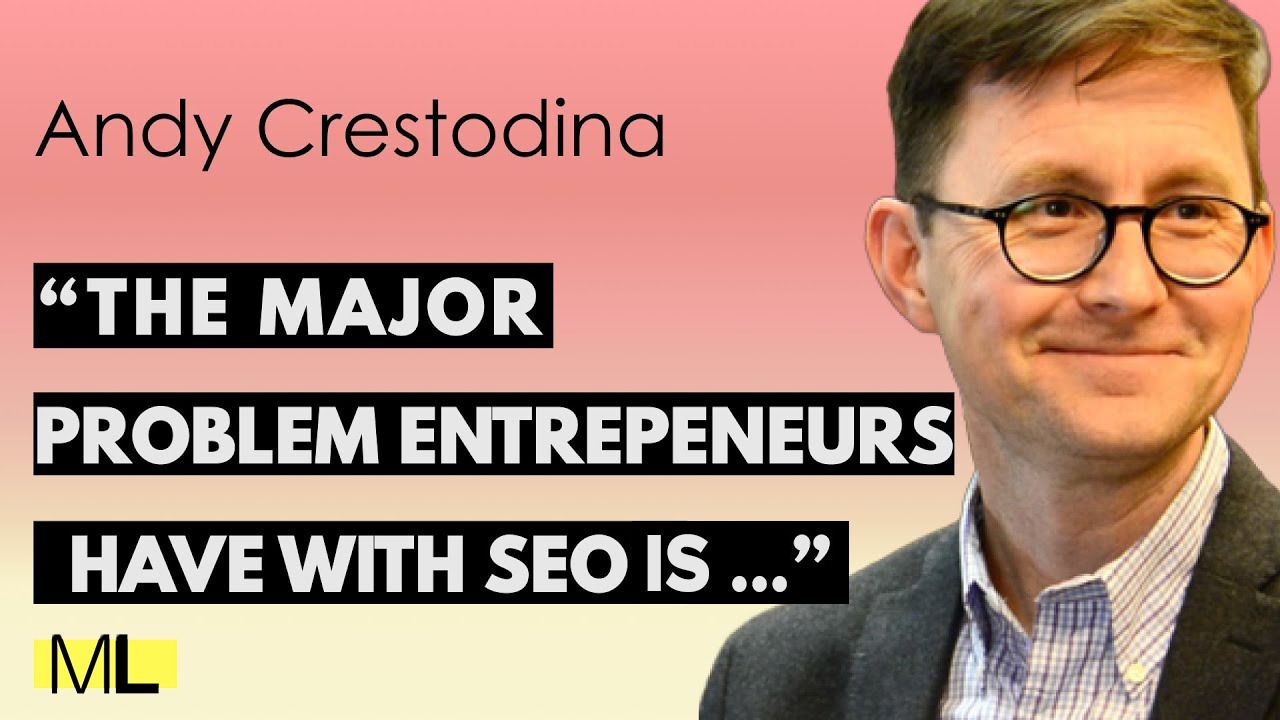 Entrepreneurs should train in SEO! Marketing Conversation with Andy Crestodina
Mar 21, 2023
💎 Who?
👉

Andy Crestodina

Andy Crestodina is the co-founder and CEO of Orbit Media, one of the largest independent American web design agencies based in Chicago. He is a true evangelist of content marketing and ethical digital marketing.

Orbit Media's blog is one of the most widely read content marketing blogs in the United States.

Andy is also the author of "The Content Chemistry - The Illustrated Handbook for Content Marketing".

In addition to being a prolific content creator, Andy is one of the best speakers and marketing presenters in the United States, particularly in Chicago where he created the Content Jam event, the largest content marketing conference in Chicago.

His three areas of expertise are content marketing, SEO, and analytics.

You can follow 👉 Andy on Linkedin.
🔎 What?
A top conversation on content marketing and SEO (among others) About digital marketing Is there still really a difference today between digital marketing and marketing in general?
Is digital marketing more strategy or tactic?
Content marketing and SEO: what's the difference?
Can you do content marketing without doing any SEO?
YouTube, Vimeo, or Wistia?
Basic SEO and social media tools for content marketers?
Should entrepreneurs train in SEO?
Will Google University soon teach SEO?
Content marketing vs. SEO: and the winner is...?
State of content marketing in 2022: the major trends that a content marketer cannot ignore?
Sharing and being generous: the best content strategy
Creating and publishing content every week: myths or reality?
Tips for quickly generating leads through your content
Guest-Posting for major media outlets: is it still a strategy that works today? (both for backlinks and reputation)
Influencer marketing: best tools?
What type of content is most effective?
Focus on a type of content: research and/or trend reports => how do you find the data?
Managing a web + content agency Managing a digital marketing agency in the US in 2022?
Raising funds when you are a digital marketing agency?
$15,000 to start from scratch with a content strategy - and generate first results?
🧠
How?
👉

How can you apply this for you and your business?
Learn SEO!

And do it quickly. Not necessarily to do everything yourself. Just so you don't delegate (and pay) without understanding.

Think "revenue" before thinking "content":

Creating content takes time, so it takes money. And in general, we lack both. THEREFORE... don't put down the pencil without being sure that what you're going to create will really generate business for you.

"Bottom of the funnel" content first What content should you start creating first?

Without hesitation, the content that will help your salespeople. The one that will help make the first sale. To convert hot leads into at least 1 sale. Or to collect leads as close as possible to a conversion. My friend Pierre Bourgeois calls it Product Content (I talked about it in the previous newsletter).

Exceptional content (or nothing):

Clearly, focus on creating exceptional content: No, the web doesn't need yet another 1,200-word blog post like "5 tips for better ranking in Google" (and frankly, neither do your clients). You surely have unique information, incredible stats, special data, and customer cases that have never been well used, on which you have been sleeping peacefully for XXX time. Ask yourself if it's not time to turn them into great content!!!

Page by page:

Remember that SEO optimization is built page by page. It sounds like a simple statement, but personally, it took me time to understand what it really meant in terms of content strategy. Sometimes, a TOP (content + SEO) page of your website can make you rank on THE keyword that will make your business
💥 Watch the full interview👇
🤓

Read the full transcript👇
Who is Andy Crestodina: a marketing teacher or a marketing thought leader?
Andy Crestodina: Well, I'm very flattered by the term teacher, and that is my goal. I do not consider myself to be a thought leader and we could talk about the definition, but I strive to be a teacher. I want to be a good teacher. I got trained to be a teacher. When I was in college, I was going to be a foreign language teacher. So thank you for that. I embrace and I'm grateful for that label. And yes, I just try to be the best teacher I can be.
Is there still a difference today between marketing and digital marketing?
Andy Crestodina: Well, I suppose marketing would include traditional offline marketing, like for example, outdoor and billboard. I mean, it's not my favorite type of marketing, and I have no special interest in it, but it's still there. There is also still direct mail there. There are all kinds of different, you know, guerilla marketing campaigns. Also, live events could also be considered to be offline marketing. But it's absolutely true that the vast majority and the most effective tactics have moved into digital, which is where they're way more interesting, becoming much more fun for sure don't you think Karine?
Digital marketing: tactics or strategy?
Andy Crestodina: I think that it's really important to quickly get to the little practical things that make a difference. There are so many of them that I mean if let's say we're talking about connecting with people over email or email marketing, a powerful channel is important, it's at the center of a lot of people's content programs. But what matters is an email. It's a little tactical. It's a very specific thing. It's the sender name, the subject line, the pre-header text, the timing, the AB test, the call to action to subscribe, and the auto-response emails that they receive after they subscribe. As you discuss these things, it always feels very tactical. So I agree very much.
What is an email marketing strategy?
Well, a strategy is a plan to reach a goal. So you've got a plan, you've got a goal. But then, almost all the conversation quickly moves to the specific little, you know, the mechanics, the metrics, the tiny actions that we take that make a difference. And that is true not just in emails, but in searches in social media everywhere. So I agree. I frequently feel like I'm being extremely specific and tactical because those are the things that I think people can take advantage of and apply right away and make a difference.
Content marketing & SEO: What's the difference?
Andy Crestodina: From my point of view content marketing is about using helpful, useful, sometimes entertaining pieces of content (articles, videos, podcasts, webinars, but mostly written articles) to meet a marketing goal: attract visitors, build trust, generate leads. SEO is a channel for promoting content. Email, and social media search optimization, are ways that you can create visibility for a piece of content. So SEO is a subset of content marketing.
You can do content marketing without doing any SEO, but ALL SEO is content marketing because what ranks? Content! you can't do SEO without doing content marketing? Basically, unless you're one of that strange sort of technical SEOs that pay attention to, you know, programming-type things, which is not what most people need to learn about.
Yes, so that's my view: We create. We promote. We measure.
And one of the three main promotion channels is SEO.
Can you do content marketing without doing any SEO?
Andy Crestodina: I was asked a similar question recently. Can you do content marketing without SEO? I said, technically, yes, you can drive traffic through email and social media. I know some marketers that pay no attention to SEO. A friend of mine, she's a big thought leader on LinkedIn and drives so much traffic from social media. She doesn't care about Search. She doesn't pay attention to Search.
But the problem there is that you miss big opportunities. A classic question in content marketing is: Where's my audience? What are they doing? What are they? What information do they need?
Name an audience that doesn't use Search!
All audiences do. A hundred percent of people are going to search for something! We search so often, we search for all kinds of things.
So to be the kind of marketer that pays no attention to search, I would call that a blind spot and a missed opportunity and a risk of letting your competitors have all the fun and win all the demand.
if you had $15,000 as an entire budget to launch a profitable content strategy how would you spend/ventilate it?
Andy Crestodina: Great question. I saw a similar question once in a blog post many years ago. It's like if you had $100, what would you do
Karine Abbou I Increased the budget!!
Andy Crestodina: The answers were very creative. Now I'm glad to have more. Thank you for the extra money. I'll need it, though. An example of some things that have a much higher value than others. If you can afford to. So I could spend this money in all kinds of ways. I'm really excited to have $15000 right now.
Karine Abbou Let's do this.
Andy Crestodina This is new.
1) Account-Based Marketing: I have never written about this and I've rarely talked about it. It's something I've only done recently: account-based marketing, using content to appeal to a very specific audience, so account-based marketing is when you find these are the exact people you want to talk to. I'm going to create content that will definitely be interesting to them, maybe a piece of original research.
And then I'm going to target them through some outreach and through some networking and through some LinkedIn ads. That kind of worked for me. Ads to support content. LinkedIn ads to support a webinar at the webinar, we present research that we did about the There is industry. It was like a thousand-dollar budget, and it attracted quite a few people that would not have been attracted otherwise. The call to action was very specific. The follow-up we did was very good and we made it. We got a bunch of projects by doing this kind of account-based marketing, but we started with research.
2) Publishing Original Research: That's another place I would likely spend some money. It's not researching my audience. It's publishing research, publishing original research. You know, maybe you know that I love this very much.
It works. It's really fun. So if you can produce a piece of original research that might take a research partner, you might want to outsource part of this. Especially if it's a survey you need to contact a lot of people and that can be time-consuming. It's probably better to do that with money. There are services that do that like SurveyMonkey has a tool called Audience. It can cost you five thousand dollars, but you can get hundreds of qualified people to take a survey that gives you data. That is gold you can use everywhere.
Yeah, you can use it. It's brilliant content for us. For social media. It translates beautifully into visuals. It's exactly what people need to link to and attracts links from other websites, which of course, is powerful for your future search rankings. So conducting and promoting original research is one of the most effective things I've ever learned. But to do it well, it's very time-consuming. It might be worthwhile to spend the money to accelerate that process, especially if it's a survey.
3) Video production for your Home Page: Another place I'll spend some of this money is on video production. There are basically two kinds of videos the way I think of it. There are content marketing videos, which you can just shoot yourself and make on YouTube and put an ad embed in a blog post. But for those visitors that do search for the money phrase and land up a service page, I want them to see something really nice.
I'm not going to use YouTube for the player. I'm going to use Vimeo or Wistia, and I want that to be really good. I'm going to have this video for years. So even for very young brands, it often makes sense to try to find something like a $5000 budget or something to get some really nice "why" videos or "the story about us" videos. Maybe a recruiting video. We're about to shoot a recruiting video. We're going to spend, I think, $3000 on that. It's not a lot and it's not a little. So those are some places, I think.
To wrap it up:
So, LinkedIn Ads to promote a really high-value webinar, for example, to a specific audience using a survey to help promote or gather data for a high-quality piece of research. And then also, I think those conversion-focused videos for your about page, your home page, and your service pages, are all worthy. Those are things that are probably worth the budget.
YouTube, Viméo, or wistia ?
Andy Crestodina: If it's for the homepage, the About US page, or a sales-like service page on the website. Okay, websites sort of have two kinds of pages. There's the content marketing stuff that's like the mini version of Wikipedia, and that's YouTube. It's fine. It's good to use YouTube because you can increase views on these videos. And that may trigger more visibility within YouTube. They can be more easily discovered on YouTube when you promote them well on your website search. Yeah. So for yeah and in search, it's amazing. This raises the I would never have a chance of ranking four. But when you search for that phrase, you see my face like a TV, like a big video player inside search results. So yes, for content marketing videos, use YouTube. For conversion-focused videos, use Wistia or Vimeo.
Essential social media and SEO tools for content marketers?
Andy Crestodina: I'm not an affiliate of anybody, so I always recommend free tools if I know of them, I think that every serious content marketer should be using a social media management and measurement tool. I'm using Coschedule. A lot of people use Agorapulse, whichever one. And probably Hootsuite does this now, but it's a way to keep your best content in social rotation without you having to just schedule posts once a week. It's just worth the time, it's worth money, yeah, so after you've published for a few years, you have a strong body of work.
You have content definitely worthy of being shared. Every time you share it, people get value. That's the one where I would use a tool for social media scheduling, social media promotion measurement, and listening. I also think it's really hard to do SEO without either SEMrush, AHREF, or Moz. You can see far in advance, your ranking starts to fluctuate. You can research keywords and understand the competition. I can't do SEO without MOZ or SEMrush. So those are what those are also offering well.
Should entrepreneurs train in SEO?
Andy Crestodina: I'm going to be very direct, and I'm going to say some things that are maybe not popular, but my view is that there's a big problem in SEO because people try to delegate it without really understanding what it is or what the actions would be. Ask yourself this question Is there anything in life where you would pay someone $5000 a month? Without knowing what they're doing. No, there's nothing in your life where you don't know what they do with your $5000.
You hire a carpenter. I don't know an electrician. You know anything, anything that you every service people buy. They pretty much know what the service provider is going to be doing. So people frequently careen. It's a big problem. The echo buyer is the lowest information buyer in digital. They don't know what the service involves. They can't even tell. They like it, they just do it on faith. They don't. They don't want to listen. They don't want to learn. I think the clients are the problem, partly because the clients need to learn. Even if you wanted to outsource it, you should still learn so. Even if you want to outsource FCO, you should still learn SEO so that you know what they're going to do, some sites have an FCO problem because of low authority. They need it.
So that's going to do PR outreach. Guest posts, link building. Some sites have an SEO problem because they don't have any search-friendly content they should do copywriting relevance, keyword research, and building out, you know, interconnected families of content. So if you don't know what the diagnosis is, how do you know what the prescription is? Maybe you hired the wrong company and you don't know. And then people who hire SEO companies, if they get results, they think they need to keep paying that SEO to keep ranking.
That was never true. I guess if you're buying SEO services right now, I've got an idea for you. Quit paying for it. Just pause it. Stop paying for SEO for three months and see what happens. I'll tell you what will happen. Nothing will happen. You will save $15000. Go use it for free. Go use it for video and original research. Another. No, I think it's it's a. So yes, you should everyone. I don't think I think it's a risky thing to outsource. I think it's a shady business.
I think there are a lot of service providers that are not very ethical. It's been like this for a long time. And so you can hire a bad CEO who hurts your brand, that hurts your rankings, that buys links that could get you penalized. It's like there's it I don't want to sound scary about it, but it's definitely worth the time to spend. Call it four hours. I don't know. Not weeks, you know, maybe 10 hours. I record it. Here's I don't have an easy way to access this, but marketing profs ask me to create a class with everything I know about SEO.
I've worked hard at it and spent a lot of time, and they used a professional videographer. And it's seven hours of SEO content. It's everything I know. It's, I think, a five-hundred-dollar masterclass. I recommend that I explain everything that I've learned in 20 years of SEO. And I think going through that, then you will be ready to do some of those things in-house. Thought leadership, right? Like, you can't outsource that.
Andy Crestodina: Or maybe, you know, you know what kind of SEO you need help from or you decide that SEO is going to be, you know, later for you and you're going to focus on other things. First, you can go there are faster ways to get results. Maybe influencer marketing is faster. So anyway, yes, I agree. I don't think there's an easy way to learn it, but I think that it's a very difficult thing to outsource, depending because some of the things that get the best results from SEO, the SEO firm is never going to do for you. What attracts links, and original research, what kind of original research you should create? That depends on what your audience needs. Does the firm know what your audience needs, right? Not likely.
Will Google University, one day, teach SEO?
Andy Crestodina: Well, that's an interesting idea. I think it would be helpful if they did. But I also think that Google sort of… I'm not sure how well Google understands SEO.
They really know. I'm not sure if I wanted advice about SEO. I understand Google's principles, but I would not ask Google for advice about strategies or tactics. Google, the principles are published, not answer people's questions. Hmm. Probably something people look for. Make it make the best piece of content. You can make pages that load quickly and answer questions and use tags like schema, you know, tag things, you know.
That's all good and important, but a lot of what really matters and what really works well. Google doesn't know they don't need it. They never tried the best people to teach you something or people that have tried many things they've had. They have similar goals. As you have data, they have data. They've failed many times and then they finally succeeded. So work with teachers that have been on the path you want to be on. Google is not on your path.
They're a weird company. They're huge. They don't have any of the challenges that we have. So now I think that they would Google is very good at teaching, is technical SEO, how the crawl works, things like, you know, crawl budget and page speed and these, you know, there are lots of things that they can be helpful on, but that, you know, Google has never researched a key phrase why would they, for sure?
Content marketing v/s SEO: and the winner is…?
Comparaison Google Trends SEO / CM en France et aux US
Andy Crestodina: Well, it's ironic because I defined SEO as a subset of content marketing. Search engines are one channel for the discovery of your content or other channels for content marketing, but it's actually not that surprising. Now I've done SEO since 2000, and I've only done content marketing since 2007. Hmm. So for a lot of digital marketers, you know, and marketing programs, SEO is older. And for and in your day-to-day experience, it's like you're going to do 25 searches today, but you're not going to write 25 articles today or research.
You know, we are as consumers immersed in search. And we consume content without even thinking about how it was produced or what its strategy was or the workflow or the calendar behind it, or the goals of the metrics. So I feel like we are all sort of closer to search than we are to content marketing or we seem to be. We feel like we are. Even though really everything you've ever found through search was content, it's only one thing that ranks content, right?
State of content marketing in 2022?
Andy Crestodina: It is for many categories more difficult than it used to be because there are more sophisticated competitors in more niches and more categories, but also the big technology companies are better at keeping their visitors than they used to be. Google used to send more traffic to websites than they do today. They send less traffic to websites all the time because they're answering the question right there in search results. So click through rates from search. Keep declining.
Click-through rates from social media. Keep declining. So in some ways, we used to say, don't build on rented land. Own your content on your website, make that the destination for all your visitors, and where you do all of your kind of thought leadership or your teaching or all of your content right where there traffic, there's hope.
But now it's becoming some of the more successful content. Marketers are embracing the fact that you can get great results by building an audience on that platform, and the audience will stay on that platform. It's hard to get people to move off that platform.
So, people who are very good at YouTube, drive very little traffic but have lots of visibility. People that are very good at LinkedIn or Facebook, drive. They drive very little traffic, but lots of visibility. So website traffic, I think, will continue to decline. And for content marketers that don't embrace offsite publishing, their visibility will decline.
Those that do embrace offsite publishing, may continue to win the conversation and create lots of visibility and stay top of mind above their competitors. But we have two Big Tech. These are monopolies, and we sort of have to live in their world, and that sometimes means accepting that our audience will not visit our site and that we need to build, and move part of our body of work onto those into those places.
Karine Abbou: Also building your personal brand, because that's always going to be a winner.
Andy Crestodina: That's your safety net. Yeah, that's the ultimate answer, of course, is to try to be that memorable, you know that that strong of a brand and you can do that through all those other platforms. You know, I had someone ask me recently, I've started doing more on LinkedIn and they said, Oh, is that your main channel now?
Like, no, I don't think of it that way, but oh, that's how we're all finding you now. Like, OK? But it's still our brand, it's still our it's a personal brand, it's a company brand. So, yeah, branding and email marketing create safety and security in the long run that decouples us are in our destinies from Big Tech and monopolies. But it is breathtaking how much visibility you can create on the platforms themselves.
Sharing and being generous: a good content strategy?
Andy Crestodina: I really think that history has proven that the brands and people that have that compete to be the most generous. I think of content marketing as a contest of generosity and the people, and the people, and brands that give away the most helpful, useful information are the ones that win the most visibility and demand.
The people that try to hoard their information, of course, simply forfeit that potential visibility to everyone else. It makes life easier for us because there's less competition. There are lots of experts that think they can keep secrets. You mentioned Mark Schaefer. This was in marketing rebellion. His book, The Secret, The Age of Secrets is over. It's definitely over. So if you so imagine the risk, really think through what you want.
If I'm coaching someone and you and I have the same philosophy, it's not you. But if I'm coaching someone who is not a content marketer and who's afraid for this reason and they say, I don't want to publish this, what if my competitors read it? Like, Guess what? It's already been published somewhere else. Go, go, search for that. You're going to find really detailed answers on that same topic. Probably it's not the publishing that.
So, you know, if I'm afraid of publishing it because of competition and he's afraid of publishing it for competition, you're going to go publish it and get tons of your we're just letting you in. So how do you become memorable? What is the risk for someone? You have to give all this advice away. It's their information that is free anyway.
You know, you can't. It's way too late to try to keep your secrets. And what is the risk is that that that person is going to go. So one of my best pieces of advice was not a normal piece of content. I wrote it specifically to improve sales, but it's an article that shows these are the 13 things that should be on everyone's service pages. That's it, that's every just use that. Don't hire me. Just go use that.
But people don't go use that because they still need the help. All the information was made. It was proof that you know how to do things. And since everybody is focused on their own challenges at the time, they don't have time to go do that thing anyway, usually. So it's there are several strange objections to content marketing.
That one to me is people should really stop worrying about that. Another one I hear sometimes is, Oh, look at my traffic. I have visitors in these countries where I don't do business. So what does that hurt you that cost you money? Is that a problem? No, I only want to talk to people who might buy it for me, really? Well, how do you limit your visibility of yours? I don't know. It's strange.
And over time, I think people begin to realize, sometimes through data, sometimes you can. If you can convince an executive just by showing what competitors are doing. Oh, you don't want to publish anything? Well, look at these competitors who do look at their traffic is competitive analysis tools. Look at their traffic, look at their rankings, look at their followings, look at the size of this email list, look at the quality, look at their webinars.
Have got lots of people in them. We are losing. We're not even on the battlefield. So, yeah, there's you know, a subsequent question is sometimes how do you convince an executive who's afraid to share information? It's like pointing at the competitors or maybe just using data.
Publish every week: content marketing myth or reality?
Karine Abbou: Regarding precisely content marketing, I have noticed something and I wanted to know if you have the same observation, I don't know. It used to be that you usually hear, OK, you grow your traffic mainly two ways. You have to be very consistent and persistent, right? Or blog, not every day, but at least two or three times per week, and then publish some guest posts go and, you know, publish on websites from others. It's good for backlinks. Great. It might be weird, but I don't think it's so true anymore. And I'm going to just explain very quickly why. But I, of course, want to hear you about this. The first thing is to publish every day. Publish weekly. Honestly, if you are in a super niche where nobody wrote, maybe.
But it seems like everybody has written everything about every single thing and every place in the world. So I why would I start a marathon if everybody has already passed the final finish line?
So don't you think that's the first thing? It's probably smarter today. Whatever industry you are to focusing on publishing really outstanding content, something that really likes, really impressive. So I'm coming to be the source type of content or research type of content and really work deep into working with people to get this content out and let it spread on his own. And instead of doing, I don't know, 10 or 12 blog posts every single month. Focus on 12 outstanding content. And that's it. And do the work. Be famous because while preparing this content, you're going to reach out to other experts, and things you're going to do three times are one thing. Don't you think it's a better strategy today again?
Andy Crestodina: Yes. Definitely!! So if you ask yourself, how often do people buy from me? That's the that's selling interval and how long does it take someone to hire to decide to hire me? It's like the sales cycle. What it like, so for us. You need to web, we build websites, you need a website every four years. It takes you two months to decide who to hire. Why do I need a daily blog? Why do I even need a weekly blog? I went biweekly.
That's all I do. I write one article every two weeks. Now the article itself has to be something that is memorable, that exceeds their expectations. That is more easily consumed, more shareable, more visual, and more easily scanned and is better supported by data.
So I don't believe it never made sense to me that, you know, this rule. Why would it vary by industry and by strategy and by the audience, right? Who it would be so strange if every audience and every content strategy worked best with three articles a week, that'd be an amazing coincidence. So I write plans every two weeks. If you've done it for a while, you'll find other opportunities. For example, I mentioned you can use social media automation or scheduling.
So, yeah, I share one of my articles maybe three times a day, but that's scheduled through a tool and that's sharing articles that were written years ago. And LinkedIn, I'm repurposing, just moving from my blog into LinkedIn. One article a week. So that's not why those are not original. That's syndicated content from before we have this body of work, do I need to write a new article? No, maybe I can just find something that needs to be updated.
Mm-hmm. Improve it. Put it back in rotation as if it's new. Send it as a new newsletter. Put it back on top of the blog. So it is if you create stuff that is really high value, you will get 10 times the benefit from it. The world is not waiting for another medium-quality blog post. We do not need to be publishing so-so content. It has almost no value. And then beyond that, I think it's worth it's worth saying I started the very first thing I thought of here.
Your first question was account-based marketing and writing for a specific audience. One of the cures for just publishing over and over and over again is to write content specifically for prospects that the sales team can use during sales. That is zero-waste marketing. It is automatically valuable because it doesn't matter if page views don't matter anymore. Traffic doesn't matter anymore. Quantity doesn't matter. It's about quality.
So another antidote for this marathon's already been run. I like the way you said that everyone's already at the finish line. Why am I starting this marathon now?
Because you have a sales funnel, you have prospects. They are. You need to show expertise. Right now people that are considering you can take can do that content sales enablement content relevant to everybody and it makes traffic irrelevant, account-based marketing is very powerful for filling the funnel, it makes traffic irrelevant.
So there are still tactics that I would recommend to almost anybody. Let's say you're doing it. You want to do so, but your domain authority is zero. Your brand new startup, how is it? Why would you even bother targeting your keyphrase you can't rank yet? No problem. Right, something that will help people decide how to hire, you know, decide, make a buying decision, write something for the sales funnel, write something, and email it to three or four or five specific people. Those are the people that you really need to impress today. So there are still tactics that make the top-of-funnel metrics irrelevant.
Get leads through your content (fast): tips?
Andy Crestodina: Yeah, there's another. There are very few shortcuts, but one of them is to collaborate the way we are collaborating right now. So this is being recorded. Someone will watch it later. You and I are getting value today. Right now, we are getting value right, we are meeting each other, and we're getting to know each other. We can keep in touch. We can build this relationship. We can collaborate.
We can share expertise with each other's audiences, right in, in other formats, in other places. So that is zero waste content that has immediate value. So the networking benefits that you can get from content marketing are rarely discussed. Very powerful. In other words, organic influencer marketing. You know, search has paid and organic, social media has paid and organic, influencer marketing also has paid and organic!
Organic Influencer Marketing is also known as friendship!! It's the best thing in life. It's just collaborating with people and making things together and having fun. But influencer marketing is also a way to make your content visible to people. Put it in front of people that have already. How do I say this? Influencers have already built the audience you want to reach. So influencer marketing is about borrowing that audience in a sensitive way. If there's an association, members of that association are my target audience. If I can create content together with that association, my content is suddenly visible to all those people I want to connect with. That's an example of influencer marketing, and it's a very powerful shortcut
Guestposting in Famous media truly efficient?
Andy Crestodina: Honestly, probably not. I don't think it's a very good idea because to get something to build a relationship, to get accepted to Forbes or a similar publication might take tens of hours to write the article. To get that, they know there could be another 10-plus hours. Hmm. And how this how much brand visibility will that bring you? I don't know. It doesn't feel like it doesn't make sense to me. I don't think it's a great idea if it was efficient, like if it was an article that you had just sort of adapted that you had already made.
And they asked you for it like, OK, here you go. Yes. Of course, you can publish that. But I think that guest posting is a really long road to building authority and links. I mean, I spent six or eight hours on a typical article, that for one link and do follow links versus no follow links. I know that there's news about this.
My suspicion is that no-follow links have no value. I doubt they do. They're not supposed to. I don't want them to have that value. It's good for the internet that there's a no follow link anyway. But having said that, there are lots of types of collaborations besides guest posts. Yeah. That can lead to authority. There are lots of blogs besides the big media sites. Just ignore all those major sites and think first about the audience. Where do they spend time? Forbes is for everybody. That's not even a. That's nobody's target audience.
Andy Crestodina [00:45:45] no, just like social media searches, events, you know, like so earlier today, I was part of a webinar and I reconnected with Cameron Jenkins. She's great. Wow. She's smart. Just being present and listening and, you know, attending people's, you know, and getting involved. Other people's content marketing influencers are sort of easier to find.
If I was in a specific niche, I would probably start with just LinkedIn. Mm-hmm. Twitter, maybe. Is there a hashtag that your audience is involved with? Then look there. I like these questions because you didn't ask me about travel Instagram bloggers. Everyone thinks that influencer marketing is about Instagram, food and Instagram and fashion. You know, we're not talking about fashion. Instagram No, we're talking about subject matter experts on specific, industry-specific. Yeah.
Andy Crestodina: Just search. I mean, you know who? So as an example, if I was one, if I wanted to get, here's an influencer marketing idea. I've got a product that people buy during the holidays, who writes the article, who wrote the last article that ranked high for best gifts for dad last year? Where do they write it? Are they on social media? Can I connect with them? Can I become friends with them? Can I involve them, with my content and then later build a relationship where it doesn't seem weird if I suggest that they include my product and theirs? Gift list. No, it's like Santa Claus. He's an influencer. I thought of that.
Which content type is the most efficient?
Andy Crestodina: My strategy is based on search-optimized long-form how-to content.
That is where I've gotten the best results and where that content sometimes attracts links, even if it's not original research. That was always the middle. We've passed. The next ring out for us is webinars and conference presentations. It's an opportunity that I've been lucky to have because I give lots of presentations at events and which is nice.
Also video versions of some of the most effective articles. So use that to build out a YouTube channel, especially during COVID. I got very active on YouTube and then also original research, which is basically like a stronger version of the how-to article because it supports all kinds of other content on our site,
Karine Abbou: and it's backed up with real facts and numbers
Andy Crestodina: Original research. Yes, It's new information that did not appear on the internet before. This addresses your marathon problem. I really like that. It's like. And I can't. That race has run. I need to run a slightly different race here. I'm going this way. I'm over here,
Karine Abbou: I'm glad you liked it :).
Andy Crestodina: Yes because all that stuff is already written. What hasn't been written yet? What is? Is there a missing statistic? So we did this several times. One of them was how long does it take to write a blog post? Nobody had answered that. We interviewed or surveyed a thousand bloggers and created an answer. How long does an average website last? I hired a virtual assistant to go look at the Wayback Machine and find that number. It's two years and seven months.
Original research content: where do you find the data?
Andy Crestodina: I don't have a great answer. It depends on what opportunities they have. So people,
Karine Abbou: Should you trigger opportunity also something?
Andy Crestodina: Well, yeah, there's you can create opportunities, but some people just have data lying around. They've never used that's published.
Andy Crestodina: There are all kinds of data inside companies. Just go inside out, you know, publish the, you know, all these statistics that you had inside. I mean, a lot of this is just forethought and planning. So people sometimes send this RFP to build websites. I have a bunch of those, hey, I have like a hundred old peers. Why don't I have a virtual assistant? To analyze these and create statistics around oh. Sixty-five percent of our apps have nothing to do with the project or their background about the company. That's not a real number, but I could find that real number now I have enough of them collected. So just look at what you have. There's not a prescriptive standard answer, but a lot of people have enough information around them to produce credible statistics.
Managing an internet agency in 2022 in the US?
Andy Crestodina: Well, there is one of our advantages is that websites are almost universally needed. So it's a huge percentage of companies have a website, need a website, and get value from having a website. The percentage, so even if half of them can do it themselves on Squarespace or outsource it to something else, that's still like 100 million websites that must be built, even if you know half of them can do it, but only spend five thousand dollars.
OK, that's fine. Websites, our average website last year was around 70000, 75000, or 80000 us. These tend to be larger projects, OK? They're complex. They have custom features. These companies might be rebranding. They want to connect it to their fancy software. They have high expectations. They already rank high. There are some risks to redesigning it. So they have their online business. Most of their business is online. So that so conversion and, you know, content and these things are critical. So there's enough demand for us to have a $6 billion company with 40 people here in Chicago.
Andy Crestodina: I know 400-person companies here in Chicago that just build websites. There's so much nest. So much need for this. But also, this may not be obvious, in Korean, but I'll share it with you. I this is I never really talk about this, but I'm not really a full-time marketer. I spent half my time doing sales for websites.
OK, I'm on projects all the time. I have to help our current clients. Helping my clients is more important than writing another blog post. I write articles early, early in the morning, and on weekends. This is not my main job and maybe half-time. So it's, you know, it's sufficient to feed the machine and create enough demand, enough traffic that converts at a high enough rate, enough links that support our rankings for these important phrases. But it's really I spend a lot of time just selling websites and supporting my clients.
Andy Crestodina: All my examples are from earlier today. I mean, most of the things that I'm talking about are things that I have seen and worked on and solved or seen solved. And so, yeah, I think that I have friends who are professional speakers and they don't work with clients at all anymore. And I ask them, like, Are you worried you're going to lose touch with the market? Is that no, there's still so much knowledge out there they can find it and teach it.
Fundraising for digital marketing agencies?
Andy Crestodina: I don't know. They don't get these businesses don't sell very much. They don't. I mean, they don't get purchased by investors. They don't get investors interested in, you know, in putting money in and taking a stake. There are too many opportunities around here. Probably it's maybe just a factor of what the opportunities are, the opportunities are. You can get incredible growth with these scalable models of MarTech marketing, technology or fintech sales, tech, and all these other things service.
So we have no data, no investors. There were just two founders in the beginning, me and my friend Barrett, and we've grown to $6 million in 20 years. No investor wants to do that. Where we're we have, you know, 10 to 15 percent growth the last few years are fantastic for us. We're very happy. The team's happy clients are happy. But it does not appeal. It does not. It's not interesting to an investor, at least over here.
Andy Crestodina: I mean, I'm never there's never going to be a big payday. What does happen sometimes is someone will decide to merge together a bunch of marketing agencies and give them a big brand and grow through acquisition and sell everything that client might need from one service. Instead of having things go to different specialized agencies so that you do sometimes see this one next door to me here. But that's also not that common. It's that there are French companies and publicists who've rolled up all those agencies.
Andy Crestodina: I know a lot of, AnimalZ. They are growing very fast. They create opportunities. Although SAAS, although those well-funded technology companies with software products and SAAS services have two offers.
Karine Abbou: Definitely. They did a great job in content strategy and user experience there. They're amazing.
Andy Crestodina: I'm a fan. Ryan Law. He'd be a good guest. He is super smart.